Half Girlfriend Rating: 2/5 stars
Good points: Baarish and Main Phir Bhi Tumko Chahunga may help you in staying awake while watching.
Bad points: Everything else.
Watch It or Skip It: Skip It unless you can't download Baarish and Main Phir Bhi Tumko Chahunga video songs on your mobile phone.
Half Girlfriend: THE STORY
The film initiates with the story of Madhav Jha [Arjun Kapoor] who belongs to an affluent family in Bihar. Her mother who was also a teacher taught Madhav ups and downs of life. The Indian educational system benefits of sports quota kick in as Madhav gets admitted to Delhi's St. Stephens College, a reputed college in Delhi. He falls for the cutest girl in the college, Riya Somani [Shraddha Kapoor]. The movie revolves around the assumption that a Bihari Boy cannot be in a relationship with a Delhi Modern Girl for some reason. However, Madhav and Riya bond together because of their similar interest in Basketball. They start to hang out together. Madhav thinks that Riya loves him as well and presumes that those hangout tours are dates. The story goes on ahead with Madhav trying to fit in the English Medium World of Riya.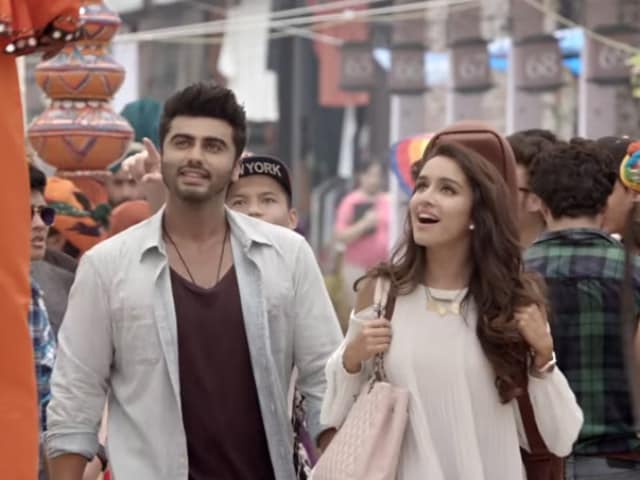 Madhav finally decides to confront Riya about their relationship to which Riya says that she is his 'Half Girlfriend.' Madhav narrates this story to this friend. His friend warns him and asks him to stay away from her as she is just using Madhav for her desires. Madhav argues with his friend and ultimately resorts to sticking with Riya. Madhav tries to get physical with Riya in the end. Riya explicitly rejects him. She leaves the room and asks Madhav to never show his face to her again.
Riya marries a wealthy NRI guy who is also her childhood friend. Despite the unfortunate happening, Madhav meets a divorced Riya in future. How will the fate react this time? Will Riya accept Madhav? Will Madhav's love conquer the odds? Find all the answers to these questions in theaters.
Half Girlfriend: THE PERFORMANCES
Shraddha Kapoor is cute. She is hot. Director seems to know only these two things about her as he apparently ignores the acting potential which Shraddha possesses. She was used as a thigh show machine throughout the film. Disappointing from her but she can do way much better than this.
Arjun Kapoor does a decent job. He still has his issues with expressions. Though, they are improving which is a good sign for him.
Vikrant Massey fits perfectly in the role of a caring friend. Rhea Chakraborty was good in her cameo as well.
Half Girlfriend: Final Words
Watch the film only if you loved the Half Girlfriend novel. You may find it exciting to watch it on the big screen. I have not read the book. Also, I decided to not read it after watching the movie. After all the hype surrounding the film, the Mohit Suri directorial Half Girlfriend fails to impress. It has turned out to be a mediocre movie.